For many Outlander fans, Season 6 may have felt like it flew by, and rightly so—it was the shortest season in the show's history. Just eight episodes long compared to the usual 13, Outlander Season 6 was filled with chaos, love, betrayal, and suspicion, set against the backdrop of the looming American Revolution.
The biggest twist of all in Outlander Season 6 was the death of Malva Christie (played by Jessica Reynolds) and by the end of the season, Claire Fraser (Caitriona Balfe) was facing the gallows for her murder—a crime she did not commit. With Malva's murder unsolved, there has to be a Season 7 in many fans' eyes.
Newsweek has everything you need to know about Outlander Season 7, with the help of the show's main cast.
Will There Be An Outlander Season 7?
There is good news for fans of Outlander. Starz has already renewed Outlander for a seventh season.
Even better, Season 7 of Outlander is currently in production in Scotland, having started on April 6, and will have 12 episodes in total.
Announcing the news online, the official Outlander Twitter account posted an image of Sophie Skelton, Caitriona Balfe, Sam Heughan, and Richard Rankin, all in Outlander attire, with the caption: "The cast and crew are back at it – #Outlander Season 7 is in production!"
In case you missed it, the news of Outlander Season 7 was confirmed back in March 2021. At the time, showrunner Matt Roberts told TV Line: "We are so excited Starz has given us the opportunity to continue the epic Outlander journey.
"We can't wait to get into the writers' room and start breaking 'Echo in the Bone' and look forward to giving the fans another season of this exhilarating story."
John Bell, who plays Young Ian in Outlander, teased to Newsweek that Season 7 will see a "crash" occur.
He said: "If six is the tsunami and we are building and building, then the crash will happen eventually. I think what we are seeing [in Season 7] is the Frasers themselves becoming tighter and tighter and more close-knit."
Bell continued: "Ian and Jamie (Sam Heughan) are now Shaggy and Scooby-Doo or whatever, they are right and they are there to protect each other but the world around them is becoming more hostile.
"So, it is this sort of great conflict that is building between the family and history that is slowly marching forward. It's really great."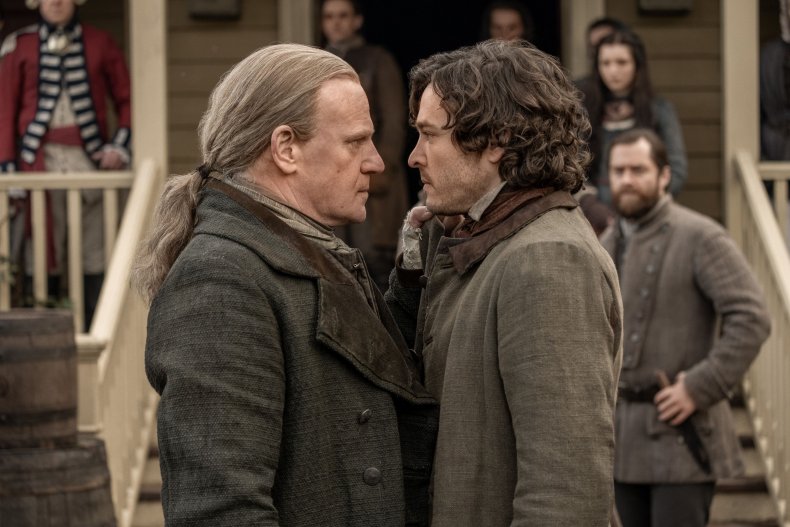 Mark Lewis Jones who played Tom Christie and Alexander Vlahos who played his son Allan Christie agreed the "dark" ending of Season 6 would continue in Season 7.
Vlahos joked: "It's very dark. There's no getting away from it."
Jones added: "It's quite a contrast to the first time we see the ridge in the very beginning of the series and they are basked in sunshine. The end is very dark indeed."
The seventh season of Outlander will be based on the seventh novel in the Outlander series by Diana Gabaldon titled An Echo in the Bone.
Without giving too much away, according to the book's official synopsis, Outlander Season 7 may see Roger (Richard Rankin), Brianna (Sophie Skelton), Claire, and Jamie return to the 20th century.
The American Revolution was fast approaching in Season 6 and with Claire, Brianna, and Roger knowing the outcome, whose side will they be on and will they stick around to see it play out?
However, there are some storylines from the sixth book A Breath of Snow and Ashes that have not been tied up, including the biggest question of all: Who Killed Malva Christie?
At the moment, Outlander Season 7 does not yet have an official release date but is expected to land on Starz in 2023.
Outlander Seasons 1 to 6 are streaming on Starzplay now.