Efforts to empathise often missed the mark, whether it was in response to the Brittany Higgins rape allegations or when confronted by a mother with an autistic child.
He has been left weakened or exposed on almost every front, so unpopular he has to plead with people to set aside their feelings and vote for him anyway, as if their dislike is based on personal grievances rather than on dispassionate assessments of his trustworthiness and competence.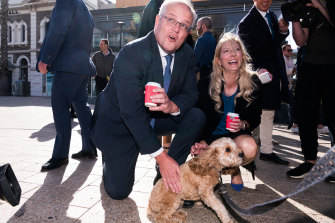 Morrison has a scant two weeks to repair some of the damage he has inflicted on himself and the Liberal brand. If he can't, there is real fear among insiders that expected losses to Labor and the teal independents could leave the federal Liberals in the worst shape they have been since the party was founded.
You can tell because colleagues, including his deputy and Treasurer, Josh Frydenberg, have begun to put a few degrees of separation between them and him as they fight to stay alive.
Momentum, a precious commodity in politics, "the Big Mo" as the Americans call it, has shifted, ever so slightly, to Labor and Anthony Albanese.
Loading
That might not last. Even so, wishing and hoping and praying for Albanese to screw up is a poor substitute for a fourth-term agenda, especially as there was no third-term agenda; just like an ability to spit out stats at will or going falsetto to deny the undeniable is no substitute for leadership. Morrison's highly agitated, high-pitched insistence that interest rate increases had nothing to do with politics did nothing for his credibility.
Morrison is facing a sharper, more agile campaign team this time around. The decision to hold Labor's launch in Perth was made in early April last year by Albanese and the party's national secretary, Paul Erickson. So critical did they believe the West to be for Labor's prospects – they hope to pick up Pearce, Hasluck and Swan – they agreed that if the election was called while WA was still in lockdown, that Albanese would go into quarantine for two weeks in Canberra then fly straight there for the launch. They even managed to keep the location secret until invitations went out a fortnight ago.
It went without a hitch. The reaction to the event, to Albanese and to his policies, was as good as could be expected.
Labor has stabilised after the shock of Albanese's first-day bloopers. There was a seamless continuation of campaigning during his enforced isolation with COVID after that first debate, which he clearly won.
Loading
The party had a policy on the Pacific ready to go when news broke about China's security deal with Solomon Islands. Penny Wong ran Labor's response on national security while Jim Chalmers, supported by Katy Gallagher, landed blows on the government's economic management after the release of statistics confirming the cost of living had skyrocketed.
Chalmers – who held his own with Frydenberg in their debate on Wednesday – Wong and Gallagher have provided vital reassurance that Albanese has surrounded himself with people who know their stuff.
Jason Clare has also shown he is more than a smooth talker. The CPI figures and the impending interest rate increase cemented the inclusion in Labor's launch on Sunday of a policy to help low-income earners buy houses, which Clare had been working on for a year.
After Morrison panned it, Clare produced a video clip of himself with Morrison on Sky in 2008 where Morrison actually proposed and endorsed shared equity mortgages.Clare also had quotes from then treasurer Morrison in 2017 continuing his advocacy. Completely unfazed, with no hint of embarrassment, Morrison redoubled his efforts to destroy the policy.
By Sunday night, when he debates Albanese on Nine, Morrison will have sorted – or had focus groups point out – the best response on interest rates, the economy and cost of living. He will spruik that, with great confidence and chutzpah, regardless of what he has said or what has passed before or what might come next.
Cut through the noise of the federal election campaign with news, views and expert analysis from Jacqueline Maley. Sign up to our Australia Votes 2022 newsletter here.