The internet has backed a man who slept at a hotel rather than at his in-laws' house after they refused to let him sleep in the same bedroom as his wife.
In a post shared on Reddit on Monday, under the username u/Accomplished-Menu773, he explained that his in-laws live across the country, and they usually get along well. They recently invited him and his wife over and they didn't hesitate to go. Upon arrival, everyone was having a good time, but things took a bad turn when it came to sleeping arrangements.
According to Pew Research Center, 55 percent of U.S. adults live within an hour's drive of at least some of their extended family members, while one-in-five Americans don't live near any extended family members at all.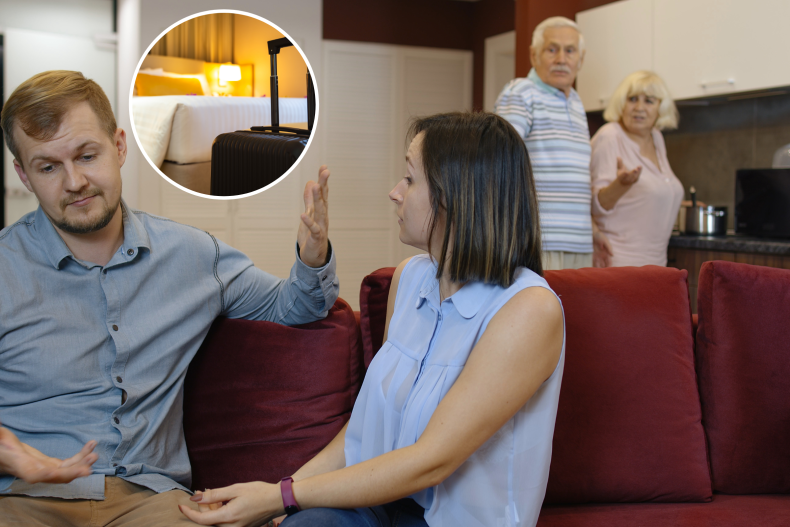 Even though the two are married, his wife's parents have a house rule that their daughter can't sleep with a man under their roof, not even her own husband, so they set him up to sleep on the sofa as they didn't have any other spare rooms available.
"I honestly thought they were joking at first, but they insisted we sleep separately. I had a problem with the implication that I shouldn't be allowed to sleep next to my wife, and I also have a bad back and the couch did not look the least bit comfortable (they don't have a guest room).
"After arguing back and forth for a bit, I decided to leave and book a hotel. I told my wife she didn't have to come with me, she chose to stay and I said I'd come back the next day. I went off to a Marriott about 10m away and got a good night's sleep, trying to not let the whole situation bother me."
The morning after, when he called his wife to ask if he should go by, she said her parents were offended and demanded an apology for not accepting their offer to sleep on the sofa.
He initially agreed to apologize in order to "keep peace," but only if they agreed they were inappropriate for telling him he can't sleep with his own wife, but now her parents not only want an apology, they want him to come back and sleep on the sofa, as they planned. He said there is no chance he will agree and has now taken back his apology.
'Solo Vacation'
He wrote: "My wife's sisters are now bothering me saying this is just the way their parents are, that my wife is very upset and that I need to just give in and stay on the couch for the rest of the trip before this turns into some sort of family feud. From my perspective, I don't care what they think and I'm willing to treat the rest of this trip as a solo vacation, go sightseeing, and meet my wife back at the airport at the end of the week."
Beverly Hills psychiatrist Carole Lieberman, M.D., told Newsweek that it's strange that the in-laws have a house rule that forbids their daughter to sleep with a man under their roof, even if she's married to him.
She said: "This is a reasonable house rule to have when their daughter was dating and the man was just a boyfriend. But, her husband should be a different story.
"The parents must have some underlying psychological issues that are making them stick to this rule even now. For example, perhaps their own low self-esteem makes them fearful that the husband will leave their daughter, or perhaps the father has unresolved Oedipal issues and can't cope with any other man making love to his daughter."
But according to Lieberman, the husband seems to be a little at fault, too. She believes that even though going to a hotel was a way to try to solve the problem, he seems to have left his in-laws' house in a huff, which made things worse.
"So, even though the in-laws are being ridiculous, the husband should apologize and sleep on the sofa to keep peace with his wife and the rest of the family. If he really wants to get in good with them, he could offer to treat them to a room in a lovely hotel the next time they visit, after he has slept on the sofa at least once. He just needs to make sure that their hotel rooms are not next door to each other," she added.
The post, originally shared in the r/AmItheA****** subreddit, where users discuss their actions with online strangers, has so far received over 18,800 upvotes and 3,400 comments.
One user, b_digital, commented: "[Not The A******] – Your in-laws are abhorrent hosts. It's their house, their rules, and their rules are stupid. Rather than fighting a pointless battle, you set a clear and valid boundary, and they chose to take offense to it. They want you to stay on their couch because it's a power play. You staying in a hotel takes that power away, and they can't handle it. The fact that your wife doesn't have your back on this is a giant red flag. Good luck."
"Edit: based on OP's update, my red flag comment is unwarranted, as it's clearly a result of a toxic, abusive household."
And VacationInevitable26 added: "I just saw a similiar story like this on pettyrevenge. Wait until they come visit you, offer them a place to stay, then insist your FIL sleep on the couch. Your house, your rules."
Another user, virtualchoirboy, wrote: "[Not The A******]. You have a wife problem just as much as you have an in-law problem. She should be defending you, not deferring to them. Do not back down on this because they are blatantly disrespecting you and disrespecting your marriage. And if your wife can't support you in this, I would suggest some marriage counseling when you get home because you're her chosen family now. She needs to act like it."
And Aeronaut91 said: "[Not The A******], tell your wife [you're] going to book your ticket home for today. Ask her if she wants you to change her ticket to go home with you or if she wants you to cancel it because she'd rather live with her parents forever."
Newsweek wasn't able to verify the details of the case.
If you have a similar family dilemma, let us know via life@newsweek.com. We can ask experts for advice, and your story could be featured on Newsweek.