At Thursday's press conference, the premier was repeatedly asked to comment on the interim IBAC report, which, although not yet publicly available, has been seen by The Age.
"That might actually benefit me to go into a long and detailed discussion about some of the stuff that's in the paper today. But that would be inappropriate," he said.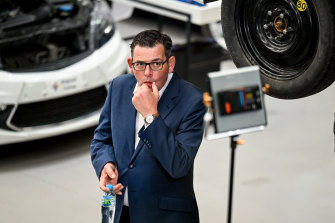 "That's why I have always had a position that unless and until something's completed, you don't trample all over it. You don't run a commentary all over it."
Opposition Leader Matthew Guy said the Coalition's soon-to-be-released integrity policy would include additional funding for Victoria's probity bodies, an issue IBAC has highlighted in the past.
"We've got an integrity policy that will come out later in the year. What we'll do is certainly beef up the resources of the Ombudsman, the Auditor General, the Independent Broad-based Anti-Corruption Commission; three bodies that have all raised significant concerns about the way this government operates," Guy told 3AW.
"It's corruption, it is theft, it just goes to the heart of the government at a time we need the government to be working for us to get us out of a hole with COVID. [But instead] We've got a government, again, focused on itself."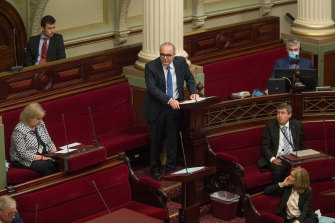 The IBAC report also casts doubt over the adequacy of the initial response to the scandal by federal Labor leader Anthony Albanese, Andrews and Labor's national executive in 2019 to place the Victorian branch under administration, expel tainted ALP members and to appoint party elders Jenny Macklin and Steve Bracks to investigate the scandal. IBAC recommends that far greater reform is necessary.
The revelation of the IBAC findings and the fact that Mr Andrews was interviewed will surprise some political observers. It was widely expected that IBAC's inquiry would be limited to determining if disgraced Moderate Labor factional boss Adem Somyurek and his key lieutenants were engaged in corruption or serious misconduct.
That perception had led Somyurek and some journalists at News Corp to accuse IBAC of running a protection racket for the Socialist Left faction of which Andrews and Albanese are members.
Victoria Police Chief Commissioner Shane Patton rejected the assertion the force had taken a soft approach in its dealings with alleged state government corruption, including the so-called "red shifts affair". Labor repaid money after the Ombudsman made adverse findings on that matter, but the police investigation was closed for lack of evidence after several Victorian Labor Party members would not give interviews.
Loading
"To say that there's been any preferential treatment there, I completely disagree with that," Patton told 3AW. "We've had a referral in respect to the red shirts, which were assessed, and we investigated fully, and we've assessed that, and that's concluded.
"We obviously investigate anything that gets referred to us. We assess it. As I said, with the red shirts, that was a very long-running, very comprehensive investigation. Ultimately, we sought independent legal advice, we sought advice from the Office of Public Prosecutions. These aren't things that are done in house by Victoria Police. It was determined there was insufficient evidence to proceed with any matters and so that was then closed."
While the draft IBAC report could not definitely conclude that all Labor's factions had engaged in the same wrongdoing as Somyurek's Moderate Labor, the evidence it gathered made it "highly likely the misuse of publicly funded staff" and "employment of family members and factional allies for party or factional purposes and nepotism has occurred for a much longer period and is much more widespread [across Labor] than Moderate Labor".
More to come.
Cut through the noise of the federal election campaign with news, views and expert analysis from Jacqueline Maley. Sign up to our Australia Votes 2022 newsletter here.